What is the source of Data that we use for building PDOS – MPLADS Dashboards?
It is important to understand the data being used for PDOS – MPLADS Dashboards. During design brain storming sessions it has come across many times on how best we can utilize the data available in public domain in combination with data sets available through data.gov.in. If we were to put everything in one slide, following is how it's going to look like.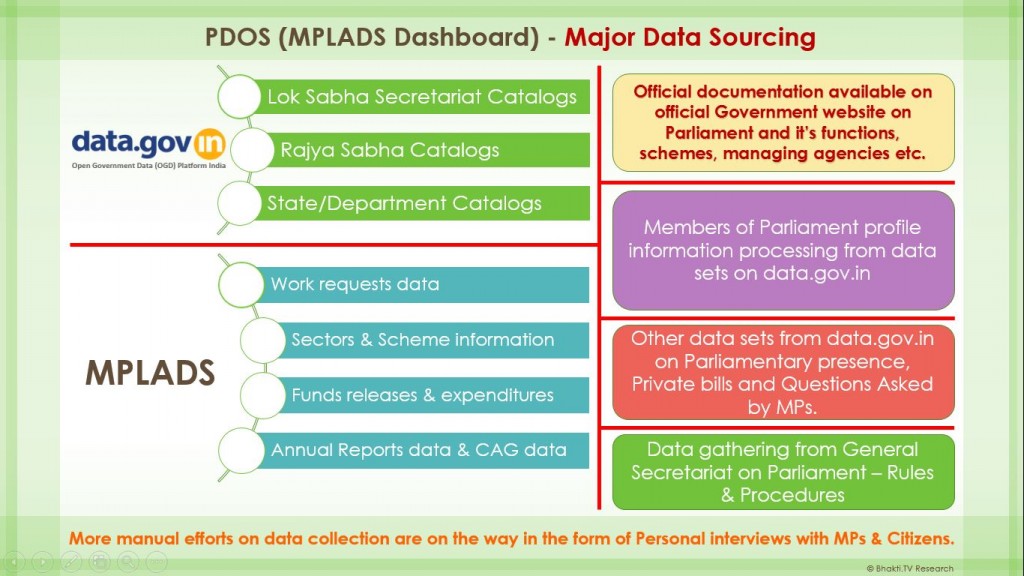 What drive us to build is the release of data in public domain by the Government under the OGD Platform, India. It started with series of meetings with technology students on How best to utilize the data and what is Open Government Data Platform. We want the young technology graduates to be aware about the data available that they can use to produce anything that helps us all in our everyday life – be it an App, Portal or a completely yet not invented tool.
What is Open Government Data Platform India?
Instead of interpreting the text from the official website and writing my own, I have copied and pasted (in italics below) from the About page of the official website – https://data.gov.in
Open Government Data (OGD) Platform India – data.gov.in – is a platform for supporting Open Data initiative of Government of India. The portal is intended to be used by Government of India Ministries/ Departments their organizations to publish datasets, documents, services, tools and applications collected by them for public use. It intends to increase transparency in the functioning of Government and also open avenues for many more innovative uses of Government Data to give different perspective.
The base Open Government Data Platform India is a joint initiative of Government of India and US Government. Open Government Data Platform India is also packaged as a product and made available in open source for implementation by countries globally.
The entire product is available for download at the Open Source Code Sharing Platform "GitHub".
Open Government Data Platform India has 4 (four) major modules, as detailed below, implemented on a single Drupal instance – An Open Source based Content Framework Solution
Data Management System (DMS) – Module for contributing data catalogs by various government agencies for making those available on the front end website after a due approval process through a defined workflow.

Content Management System (CMS) – Module for managing and updating various functionalities and content types of the Open Government Data Platform India Platform.

Vi

sitor Relationship Management (VRM) – Module for collating and disseminating viewer feedback on various data catalogs.

Communities – Module for community users to interact and share their zeal and views with others, who share common interests as that of theirs.
Helping technology students in Gujarat on awareness about data sets available and possible uses for the benefit of Citizens and Government is our Goal.

Other forms of data collections
Starting very soon, after the release of pilot in couple of weeks – our effort to contact Members of Parliament and Citizens for using PDOS – advantages and disadvantages (to learn and convert to an advantage) will bring in more eyes and ears to the project. Interviews are geared to get insight from MPs, Citizens, ND, Implementing Agencies and User Agencies to understand the data needs better.
Note: We are an independent company building PDOS and are NOT related to Government in any way.